There are a lot of "hidden rules" in the industry of traditional Chinese medicine food therapy and health preservation.
Why are so many people easily deceived?

What kind of people's hearts have China Merchants seized? Why do so many people have to be leeks, waiting to be cut? It turns out that there are a lot of ways for investment promotion companies.
If you pay attention to nothing, you will steal
In order to attract people to join in, the bad merchants received all kinds of warm reception, served tea, poured water, beat back and shoulder, nodded and bowed, kneeling and licking, which was just like calling people ancestors. As the old saying goes, "pay attention to nothing, either you are a traitor or a thief." don't think that enthusiasm is a good thing. When the franchisee's money comes in, you don't care about the franchisee, or even abscond with the money.
False packing
The merchants invite stars and celebrities to advertise to expand their popularity. In addition, we also join some associations, institutions, award trophies and certificates to flaunt our own strength, and exaggerate the company's strength and effect on the Internet. Entrepreneurs, be careful!
Credulous network information, not on-the-spot investigation
Network information is unreliable, many are false, exaggerated propaganda. If you want to know the truth, you must come to the site for a visit. After the on-the-spot investigation, you can identify with the brand and concept of the merchants before joining.

Here is a Chinese medicine dietotherapy industry model, in order to avoid being deceived, I will join the assessment process written out, take away, thank you!!
In person inspection, the headquarters investment promotion company never directly receives the franchisees, but first lets the franchisees go to the branch store for 3-5 days of secret visit, personal inspection, taking Chinese medicine diet effect, recharge mode, customer management, company culture, customer consumption, etc;
Image discrimination, the face of balsam pear face, widow face, mean face, the face of malicious people are not authorized;
Do not do packaging: do not engage in image packaging of experts and professors, do not engage in joining associations, institutions, trophies, certificates to flaunt themselves
The strength of the company is ragged, the reputation is disdain in packaging, rely on technical strength support;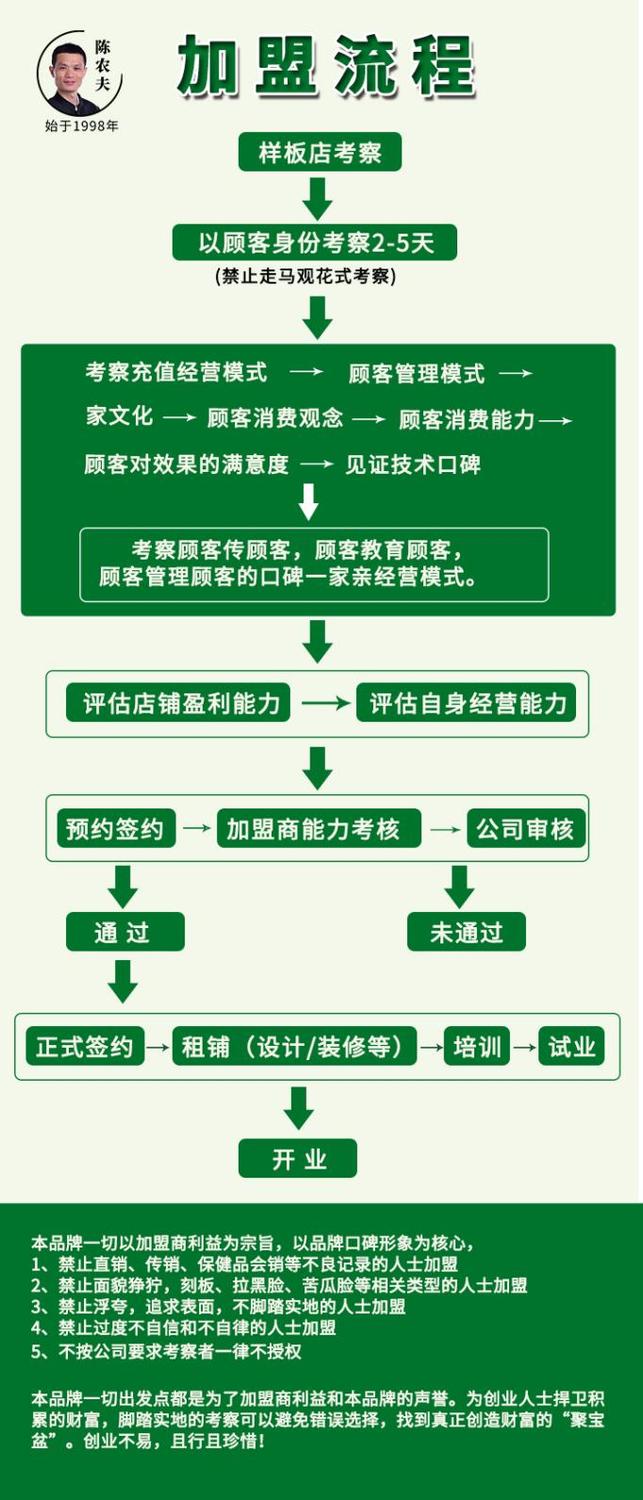 Unsuitable people do not authorize: negative energy in the heart, emotional people do not give authorization, people who welcome positive energy, people who refuse negative energy.
People who are not confident of others and who are not self disciplined do not give authorization.
Those who have been engaged in pyramid selling, direct selling and health care products will not be authorized.
7. People who are ostentatious, superficial and opportunistic do not give authorization.
8. If the company does not comply with the arrangement of the company, the authorization will not be given, and even if it has been authorized, the authorization will be revoked.
A really good project is one that has been investigated. Through layer by layer screening, the most suitable person is selected to do practical and good deeds for the common people. It is also for the people's well-being. Dear investors, do you understand the eight "hidden rules"?