Chen Nongfu, with 23 years of technological breakthrough, product research and cultural precipitation, is the only dietotherapy center in China and in the world.
[1998-2015] in the past 17 years, he has devoted himself to the study of medicated diet and dietotherapy. He has transformed the essence of Chinese herbal medicine into three meals a day, and has successfully transformed the bitter and astringent medicine into a delicious herbal food therapy soup diet. The therapeutic effect of diet is faster than that of Western medicine. It has achieved the great pioneering work of herbal nutrition and health care, so as to achieve the results of "maintaining life", "preventing diseases" and "treating patients".


In order to carry forward the spirit of angel's love, let everyone become an angel, care for you and me around us, so that everyone can establish morality and build credit on this platform, pursue dreams, realize self-worth, carry forward new social trends, build a harmonious society, and create a harmonious, friendly and loving angel community, Chen Nongfu herbal food therapy center hereby launched the "Wenshan Angel home selection" activity.
The angel selection competition in Wenshan District of chennongfu herbal food therapy center: 1. The final number of angel candidates in the angel selection competition is tentatively set at 20, and the number of applicants is unlimited. 2、 Candidates should carefully read the "application form for angel selection competition in Wenshan District of chennongfu herbal diet therapy center" and fill in the form according to the requirements. 3、 The registration time of angel trials is April 10 - May 10, 2021.

The process of angel selection competition in Wenshan District of Chen Nongfu herbal diet therapy center (audition part) includes filling in form → voting → canvassing interaction → Angel badge authorization ceremony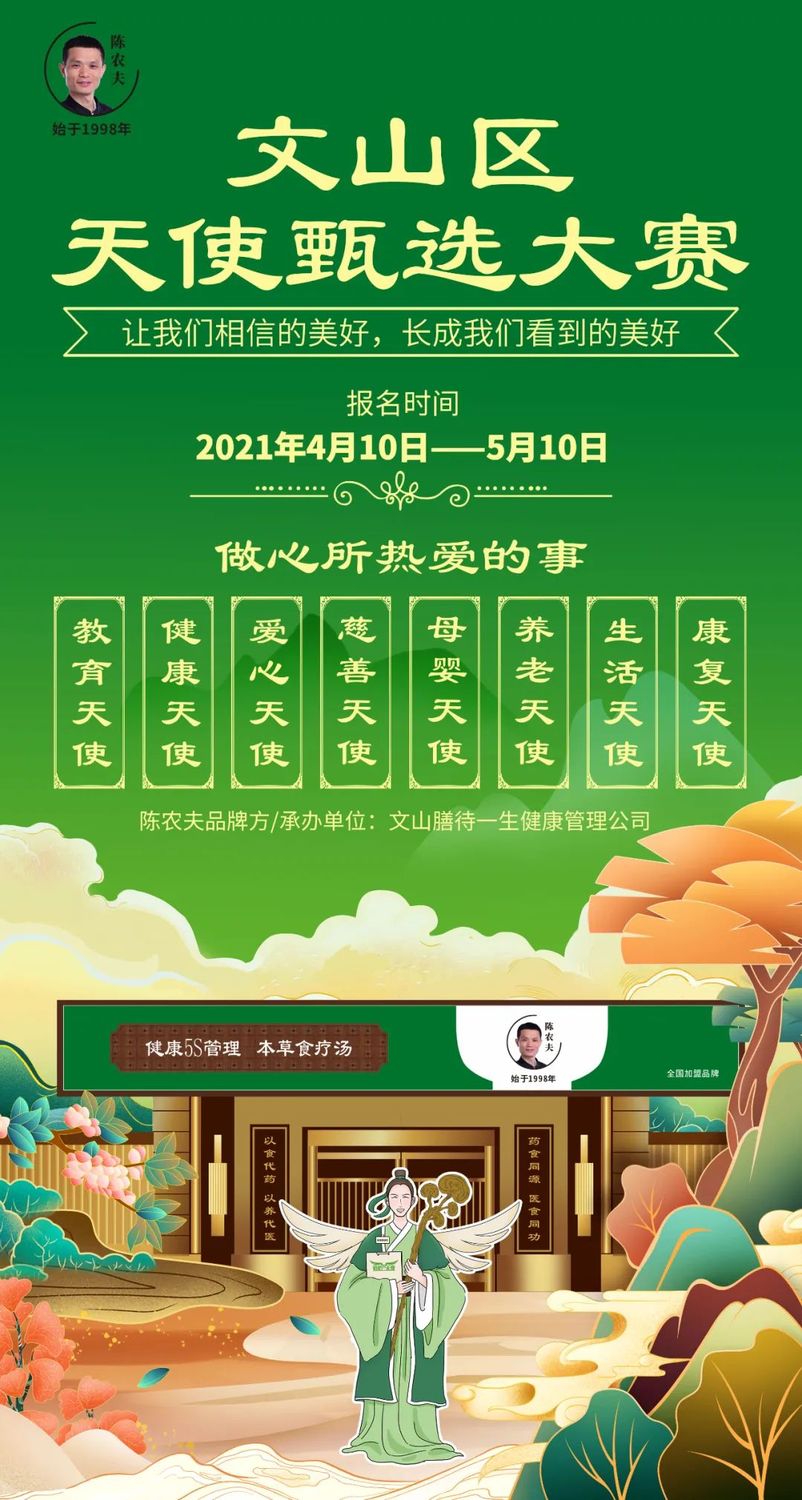 1. Voting rules
① Strictly abide by the true and recordable voting principle, fraud is invalid.
② The final evaluation standard of this activity is the online voting results.
2. Prize setting: the angel who finally enters the selection competition will receive the "angel Medal" and participate in the angel medal authorization ceremony held by the brand and Wenshan Angel house.
The final interpretation right of this activity belongs to Chen Nongfu brand.