If life is a Multiple choice questions:
Career, health, money, house, car, children, relatives, how would you choose?
Children can also do multiple choice questions, Adults all want it 。
If life is a Multiple choice questions:
Career, health, money, house, car, children, relatives, how would you choose?
It must be healthy.
However, physical health is subtracting every day!
Daily work pressure is subtracting;
Fast food and junk food are subtracting every day;
The bad mood is subtracting every day;
Air quality and environment are subtracting every day ......
Without health, how about winning the world?
Luo Jing, Xiao Xiaolin, jobs, Zang Tianshuo, Shi Shengjie... These celebrities are all associated with one word - cancer.
Now in our country, seven people are diagnosed with cancer every minute, and four people die from cancer every minute.
Lung cancer, gastric cancer, colorectal cancer, liver cancer, female breast cancer, esophageal cancer, thyroid cancer, cervical cancer, brain tumor and pancreatic cancer are the main common malignant tumors in China, accounting for about 77% of all new cases.
Although the disease is terrible, it is not impossible to prevent it.
Medical instruments can only detect the visible diseases (i.e. visible diseases or diseases recognized by Western Medicine)
Before the occurrence of visible diseases, the human body is first of all invisible diseases( I.e. diseases that are invisible but perceived subjectively)
prevention and Self healing Yes.
The occurrence of visible diseases is because when the body's harmful substances increase and the self-healing system is overloaded, the body sends out an alarm. At this time, we should do a good job of intervention and prevention. If we ignore this early warning system, the disease will take heavier revenge on the human body!
In order not to be sick, less sick. We regard prevention and maintenance as the source of human health.
Traditional Chinese medicine (TCM) is a traditional Chinese learning which integrates the essence of Yi, Buddhism, Taoism and Confucianism
The core values of traditional Chinese medicine (TCM) are the nutriology of the whole human being (tangible material + intangible substance) that everyone understands and excels.
The human body is composed of invisible consciousness and visible body. Our herbaceous organisms are composed of invisible substances (four Qi and five flavors in traditional Chinese Medicine) + tangible effective ingredients, so the human body must be supported by complete herbaceous organisms!
Through 17 years of experience and research, Chen Nongfu has combined traditional Chinese medicine and diet medicine to achieve the same source of medicine and food, and food can help the power of medicine. Through more than 20 years of operation, more than 100 service stations have been organized all over the country.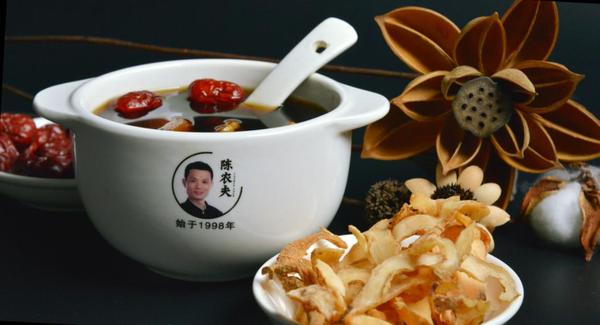 Medicated meals, three meals a day, The realization does not spend money, does not spend extra time can not get sick, less sick.
Other people's meals are only needed to maintain basic life.
We eat with medicine instead First, maintain life; Second, to recuperate the body; Third, prevention of diseases; Fourth, prolong life.
In order to cater to the taste of the people, on the basis of retaining the nutrients in the traditional medicinal diet, Change the original "good medicine bitter taste" into "good medicine delicious"
The familiar "Chicken Soup for the soul" has become a reality. Put the sermon in the garbage.
"It's a long way to go. I'll go up and down and look for the future." Chen Nongfu sticks to his original intention and strives for the health and well-being of the people.
All health can be done every day, a little bit healthy every day.