In the hot summer, insomnia and many dreams perplex countless people, often want to sleep, or even sleep is the dream of the whole night, wake up in the morning tired. Western medicine believes that most of the cases of this disease belong to The disorder of sleep function of brain Or because of drug abuse, physical diseases and other reasons, the drug treatment is generally dominant, and it is better to be assisted with psychological and behavioral therapy.
Chen Nongfu's diet doctor thinks that insomnia is related to the deficiency of heart, spleen, liver, kidney and Yin blood, and is often used The method of dietotherapy has certain effect 。 The following several ingredients are often used, you may as well try Try it 。
First: Zaoren congee 。 Acid Jujube Mash the kernels and fry them to get the juice. Rice porridge, half cooked time into the Zaoren soup cooked with porridge can be. This porridge has a good effect on neurasthenia, insomnia and dreaminess.
Second: Longan porridge 。 After washing longan meat, red dates and rice, they are added into the pot together with water to cook porridge. It has a good therapeutic effect on symptoms such as palpitation, insomnia and anemia. Chinese yam, wolfberry, Ganoderma lucidum and so on have the effect of treating insomnia.
In addition to diet regulation, we should also remember the following points in daily life to prevent the invasion of insomnia. Don't be too fat for dinner Don't take too much exercise after dinner. Take a walk. If possible at noon, you can have a short rest, but not more than one hour. After getting up, you should have a little activity to facilitate the work in the afternoon.
If you have insomnia, you can also press the end of the middle finger for 5 minutes. Here is zhongchong point, which can not only treat insomnia, but also be the first-aid acupoint for angina pectoris. Today's food medicine school is here. If you are interested, you can also click on Chen Nongfu's medical diet official website to learn more about medical diet and food therapy. See you next time!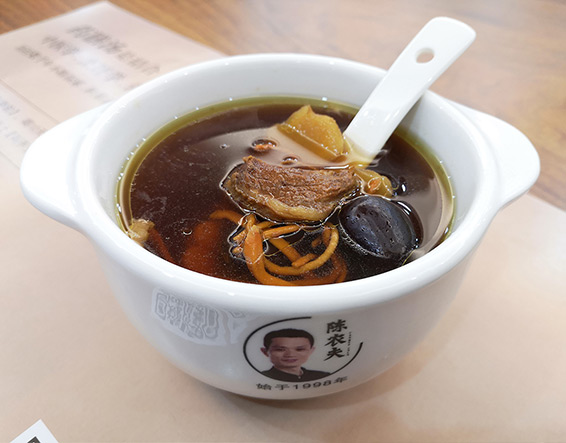 Chen Nongfu Guided by the theory of traditional Chinese medicine, relying on the extensive and profound theory of medicinal diet, and following the change law of biochemical collection of yin and Yang and five elements, Tongfeng Tiao Tang is the first to promote the concept of "controlling the classics" with the core of multiple recuperation. In order to achieve the goal of harmony between man and nature, physical and mental health, internal and external harmony, the essence of health preservation is presented perfectly!
As a leading enterprise and well-known brand in China's traditional Chinese medicine health club franchise and whole store export industry, the number of franchise stores under Chen Nongfu medicated diet exceeded 270 by the end of 2018, which successfully helped thousands of franchisees realize their dream of creating wealth and enjoyed a high reputation among investors and consumers. To support franchisees to carry out trial operation, chennongfu medicated food headquarters attaches great importance to, and also has a very professional and high-quality team. By helping franchisees to carry out trial operation, Chen Nongfu's professional team has won the trust of the majority of franchisees with its outstanding professional quality, and has also created brilliant achievements.